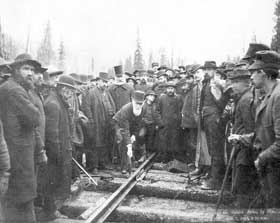 In 1885 the people depicted here completed a bold and challenging federal infrastructure project that joined the young country of Canada from East to West.
Now the time has come to join our country from South to North.
This time the solution will not be a railroad, but a comprehensive suite of infrastructure projects essential to the development and protection of the North.
The mission of NORSTRAT Consulting is to put our clients into the next picture.
The Northern Strategy is extremely diverse and multi-disciplinary.
Every assignment is different and tailored to your own needs.
NORSTRAT Consulting teams with other professional subject matter experts and leading companies to meet your unique needs.

Petrie Telecommunications Inc.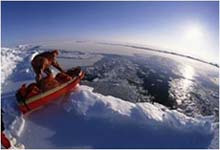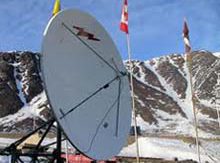 Subject Matter Expertise
Member of 2014 Victoria Strait Expedition
Author of papers on Canada's North, Northern Strategy
Conference Papers and Presentations
Extensive Northern travel and contacts
Northern System Development Experience
BAPS Iceberg Tracking System
IDIAS Sea Ice Mapping System
MCOIN III Recognized Maritime Picture
Radarsat II Arctic Surveillance
AIS-Space Arctic Marine Surveillance and Tracking
Radarsat Constellation Mission
Business Development Experience
Over $200M in Federal Government wins
Campaign Strategies
Bid and Proposal Management
Project Definition Experience
The Arctic Sub-surface Surveillance System (ARCSSS)
Maritime Coastal Defence Vessel (MCDV)
Joint Support Ship (JSS)
Halifax Class Modernization / FELEX
Arctic Offshore Patrol Ship
PolarSat Mission
AIS-Constellation Mission
Major Capital Project Experience
Maritime Coastal Defence Vessel
Radarsat II
Radarsat Constellation Mission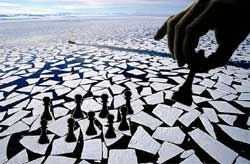 NORSTRAT Consulting offers expert advice and support custom designed around Client needs.
Provide strategic advice on your Northern Strategy campaign plan
Provide subject matter expertise
Answer the key question of how you can build on the Northern Strategy
Provide Project Definition support
Memoranda to Cabinet
Operational requirements definition
Procurement strategy definition
Provide capture and bid management support
Mr. Carson has captured over $200M in related government of Canada contracts.  Let that experience work for you.
Provide Strategic Business Development process training
Provide Project Management support
Strategic Project Planning
Risk Management
Change Management
NORSTRAT Consulting Inc. serves government and industry clients with a responsibility or a goal to build an element of Canada's Northern Strategy.
NORSTRAT Consulting Inc. is proud to be of service to the following clients:
Industry
Aeronautics
Aerospace & Defence Industry Association of Newfoundland & Labrador
Airbus Defence and Space
Aker Solutions
AlphaSights
Astrium SAS
Babcock (via H+K)
Calian (via H+K)
Canadian Light Source (via H+K)
Cassidian
Deloitte
General Dynamics Canada
Hill+Knowlton Canada
Kraken Sonar Systems
L-3 MariPro
L-3 MAS (via H+K)
L-3 Ocean Systems
MacDonald Dettwiler
Northrop Grumman (via H+K)
Northwestel (via H+K)
Petroleum Research Newfoundland and Labrador
Raytheon Canada Support Services
Saab Technologies Canada (via H+K)
SK Films (via H+K)
Ultra Electronics Marine Systems
Government
Aerospace Review
Canadian Coast Guard
Canadian Space Agency (via Deloitte)
April 2017
NORSTRAT delivers engineering study to Canadian Coast Guard enabling improved shipping safety on Canada's Northwest coast.
February 2017
NORSTRAT speaks at CONVERGX Calgary on the topic of emerging Northern infrastructure opportunities.
January 2017
NORSTRAT conducts a marine radar coverage survey of Douglas Channel
October 2016
NORSTRAT attends Ocean Innovation conference, Iqaluit
May 2016
NORSTRAT meets with Canadian Coast Guard MCTS staff, Iqaluit
April 2016
NORSTRAT delivers report on Arctic shipping technology roadmap to Government of Germany, Bonn
December 2015
NORSTRAT presents on the topic of future Arctic shipping at Vanguard Shipping Forum, Ottawa
November 2015
NORSTRAT presents at Arctic Shipping Forum, St. John's
October 2015
NORSTRAT presents at Maritime and Arctic Security and Safety Conference, St. John's
September 2015
NORSTRAT engaged to adapt military surveillance systems to solve offshore oil and gas challenges in ice infested waters
April 2015
NORSTRAT attends Offshore Oil and Gas conference, St. John's
March 2015
NORSTRAT awarded Victoria Strait Medal for contributions to successful 2014 Victoria Strait Expedition that found Frankling's ship HMS Erebus
February 2015
NORSTRAT attends Nunavut at 15 Conference, Ottawa
January 2015
NORSTRAT attends Northern Exposure conference
October 2014
NORSTRAT organizes and presents at Maritime and Arctic Security and Safety Conference, St. John's
September 2014
NORSTRAT attends Oceans 2014 Conference, St. John's
September 2014
NORSTRAT takes part in Victoria Strait Expedition to seek and find the missing Franklin ships in Canada's Northwest Passage.
April 2014
NORSTRAT engaged (though HK Strategies) by Babcock to conduct a market size evaluation of Canadian northern RF communications opportunies.
January 2014
NORSTRAT selected by Canadian Coast Guard to conduct a study of precision navigation options for a future Arctic Marine Corridor
October 2013
NORSTRAT selected by Canadian Coast Guard to conduct a study of radar and surveillance systems for a future Arctic Maritime Corridor.
October 2013
NORSTRAT engaged by Kraken Sonar Systems to pursue Arctic opportunities.
June 2013
NORSTRAT engaged by ADIANL to help coordinate a major conference on Maritime and Arctic Security: MAS2013
"The Challenge | The Technologies | The People"
March 2013
Vanguard news article The Perilous Route to Nanisivik
Nov 30, 2012
NORSTRAT presents at the ADIANL Maritime and Arctic Security Workshop MAS2012 in St. John's NL.
September 2012
NORSTRAT attends DEFSEC in Halifax
July 2012
NORSTRAT engaged by Industry Canada to contribute to the Aerospace Review. See Canada's Space Sector: The Essential Enabler of Canada's Northern Strategy
June 6, 2012
NORSTRAT invited to speak at GDC Edge Innovation Centre – Arctic Sovereignty Leadership Discussion
June 1, 2012
NORSTRAT attends the Naval Association of Canada conference in Ottawa on behalf of client
May 30-31, 2012
NORSTRAT attends CANSEC in Ottawa along with clients
April 23-25, 2012
NORSTRAT attends international Polar Year conference in Montreal with clients
April 3, 2012
NORSTRAT presents Canada's Northern Strategy opportunities to Finnish marine and Artic industry in Turku, Finland
February 2012
Vanguard News Article: What's Next for Canada's Northern Strategy?
Febuary 1-3, 2012
NORSTRAT attends Northern Lights 2012 conference in Ottawa with clients
Febuary 2012
See article by Lee Carson in Vanguard Magazine: What's Next for Canada's Northern Strategy?
January 2012
Canadian Government Executive Article: Northern Light
In the summer of 2014, the President of NORSTRAT Consulting had the privilege of sailing the North West Passage for a second time, this time as a mission crew-member on the Victoria Strait Expedition searching for Franklin's ships.
Despite several challenges, including persistent sea ice, uncharted waters, and the bringing together the different goals and constraints of Government, industry and academic team members, we were successful in discovering the HMS Erebus.
"The reason the voyage was so special for me was that it brought into focus 30 years of Arctic systems engineering experience. It's one thing to design and build sea ice mapping systems, route survey systems, maritime domain awareness systems. It's quite another to try and make those systems work for you on a challenging mission in the waters of the Northwest Passage."
– Lee Carson